Note: This. Is. Not. Freedom. The issue is not supporting or opposing vaccination (although there are over one hundred peer-reviewed studies documenting adverse health outcomes resulting from the current schedule or make up of vaccines). The issue is one of forced mass vaccination, with no (or fewer) allowances for families to choose a natural immune health approach to maintain wellness. Being forcibly drugged is not health freedom.
On Thursday, the New York state legislature passed and New York Governor Andrew M. Cuomo signed into law legislation (S2994A)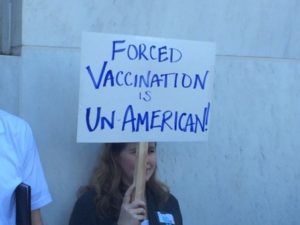 eliminating the religious exemption parents in the state have been able to exercise to refuse state-mandated vaccinations for their children as a condition for their children attending school. This legal change leaves parents with only a narrow medical exemption given that New York had already barred use of a philosophical exemption.
The legislation will even affect many children attending private schools.
In 2015, California similarly eliminated the ability of parents to claim any exemption to vaccinations other than a medical exemption. I wrote about that legal change in articles here and here. Now there is a move in the California legislature to drastically curtail the ability of parents to obtain medical exemptions for their children.
Courtesy of the Ron Paul Institute