Queens Libertarians will host an open discussion of issues related to the recent judicial decisions announced by the high court on Saturday, August 13 at 12:00 pm at Tu Casa restaurant in Kew Gardens, under the topic, "Is the Supreme Court Moving Towards Liberty?" Discussion will be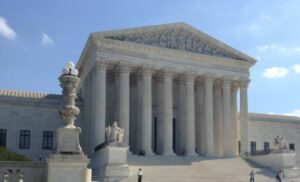 carried by our local "bullpen" of commentators like Alton Yee, professors Schoenberg and Luster, meetup host John Clifton and others.
Among the questions explored by Yee are, were libertarian principles addressed by the overturning of Roe v. Wade, and the curtailment of the powers presumed by the EPA? Clifton will review the impact of the right to carry guns ruling on New Yorkers in the Bruin opinion, and the implications for religious liberty of the new prayer decision. Does this represent a renewed constitutional approach by the court, or judicial activism in a conservative direction? Is current Washington, DC capable of dealing with the changes? And more.