Flushing, New York, November 13— Queens Libertarians (both as individuals, and the organization of the same name) are celebrating the achievement of Queens' own Larry Sharpe, an Astoria business consultant who served as the Libertarian Party candidate for
Governor, and other progress made in 2018. Sharpe won enough votes in the election (over 90,000) to qualify the ballot line for permanent party status under New York election law, for the first time in its history. Libertarians thank Sharpe in particular for operating a full time, seriously funded campaign (he raised over $200,000) that unified its activists, chapters and organizations throughout New York.
"I want to thank each and every voter that voted for me. You took a step towards liberty and freedom," says Sharpe on his ballot victory. "These results will enable the party to much more easily be able to run candidates throughout Queens, and the rest of the state," adds Tom Stevens, President of Queens Libertarians (or QL). Sharpe has been a member of the organization for years and a frequent speaker, as part of the successful Libertarian education speaking program it has run through its 24 year straight history of monthly meetings.
Stevens also announced, when state party Chair Jim Rosenbeck spoke to the group in August, that the QL contact list had grown 33% since last December. In 2018, in addition to maintaining an over 400 active email and member list, it held a convention, holiday dinner, speaker program and 12 monthly meetings featuring guests including Murray Sabrin, Bill Schmidt, and 2018 LP gubernatorial contender Larry Sharpe. QL meets (since 1994) on the second Saturday of each month at the Takara Sushi restaurant in Whitestone from 11:30 AM to 1:30 PM.
At their December 8 monthly meeting, the Queens Libertarians will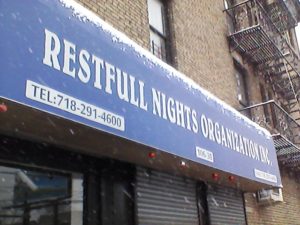 also hold its annual toy drive for charity, and invites Libertarians in the NYC area to attend to donate new or gently used toys. Drive Coordinator Michelle Yaskel estimates they will deliver over 170 toys for homeless black children, through the family shelter support program Restfull Nights, at its Jamaica office in mid-December. The achievement, being the 18th straight toy drive conducted since 2001, will be honored by the shelter program when several QL members attend the Restfull Nights Christmas Party, held right after the Queens Libertarians annual Holiday Dinner on December 22.
The Queens Libertarians (formerly the original Libertarian Party of Queens County), is the authentic voice of libertarian views, activism, education and advocacy in Queens since 1994. It is not currently chartered with the Libertarian Party of New York (LPNY) due to a bylaws dispute, and over its documenting wrongful expulsions, and ongoing defamations of several Queens activists led by certain factions within the state party. According to Vice President John Clifton, "the de-chartering was demeaning, as it needlessly disenfranchised long term Queens activists, and represents a tendency towards fostering division and favoritism that probably contributed to the delay in LPNY achieving permanent ballot status until 2018."
Members believe this action used the dispute simply as a pretext for removing its standing to object to the expulsions, since the reconsideration of that issue was never constructively resolved. QL expects its positive achievements and fully active organization will result in a re-merging or restoration of its status and/or members with LPNY, through a future state convention or committee, or by Sharpe himself. The Queens Libertarians plan to further celebrate its history on their 25th anniversary in 2019.
Update: Roughly 300 toys were collected as of December 8, a new record for the drive. Due to a lack of communication from and disagreements with Restfull Nights, the toys will be distributed to other recipients.