From Reason magazine's massive profile of Queens' own Larry Sharpe and his libertarian philosophy: 
Libertarians like Larry Sharpe.
It was nearly impossible to attend a state-level Libertarian Party (L.P.) convention in 2017 and not see the affable former Marine and 2018 candidate for governor of New York laying out his seven-year plan to transform the party from a distant third-place finisher to the country's decisive swing bloc at all levels of government.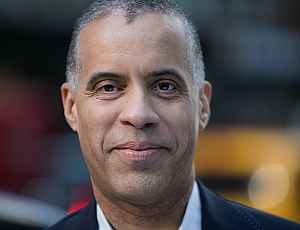 When I asked former Massachusetts Gov. William Weld how Libertarians could best build on their momentum, he began his reply with: "You want to get out more candidates like Larry Sharpe."
Of course, Bill Weld is the only reason a normal consumer of politics might have heard of Sharpe in the first place. Weld was the Libertarian vice presidential nominee in the 2016 race—by far the most famous and electorally successful candidate for that office since the party's founding in 1971. And in May 2016, at the Libertarian Party's national convention, Sharpe came this close to beating him. A measly 32 votes on a hotly contested second ballot separated Weld's 50.5 percent from Sharpe's 46.9, much to the bafflement of the assembled national press corps. At a raucous moment, the party's radicals and anarchists rallied behind Sharpe, even though he is decidedly not one of them.